I discovered Marco's shop when I typed "Richmond, VA" in the "Shop Local" feature on Etsy. Marco Mahler's shop,
ArtMobile
, intrigued me because fine art mobiles like his are an unusual item to find on Etsy, and he takes great photographs of his work. His mobiles are fun and stylish, and pretty classy-looking if I do say so myself. His 3d-printed mobiles are apparently the first of their kind! Also, I don't see that many guy sellers on Etsy, so his shop stood out to me for that reason, too.
I hope you enjoy reading the interview with Marco. Turns out he's pretty business-savvy. I learned a lot from reading answers. Enjoy!
Marco Mahler of ArtMobile
www.etsy.com/shop/artmobile
www.marcomahler.com
www.facebook.com/marcomahler
www.twitter.com/marcomahler
www.shapeways.com/shops/mobiles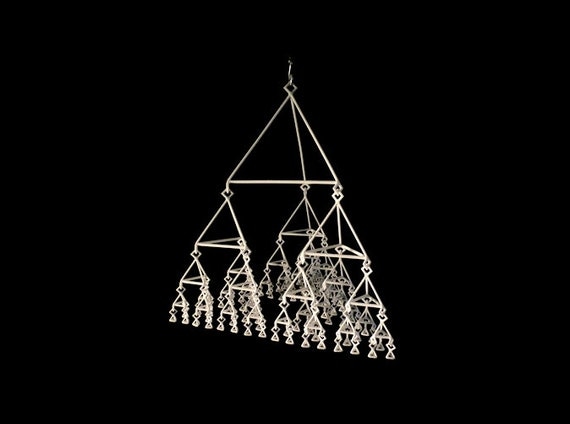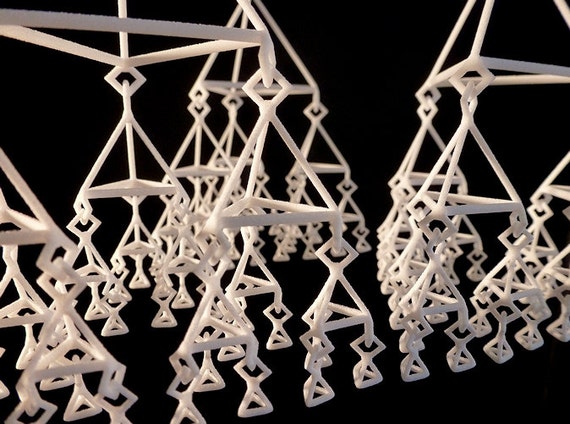 1. Please describe your Etsy shop.
I sell ready-to-ship handmade and 3d-printed mobiles and take custom,
consignment and wholesale orders.
2. What is the greatest challenge/strength of selling your category of
items on Etsy?
Challenge:
To have my items show up in search results. Etsy has been getting more
and more cluttered with various listings that don't necessarily relate
to certain search terms.
Strength:
Making your items available to a large number of people looking to buy
handmade items. Etsy's platform is time efficient for listing and
selling items. Most people don't buy something the first time they see
it. With Etsy, they
can add your items to their favorites and consider purchasing them later.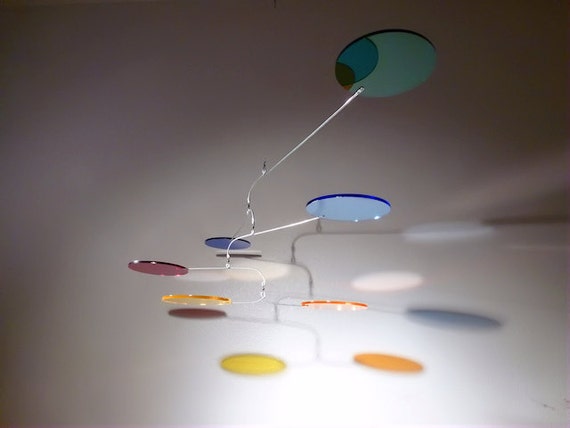 3. What is your most popular item and why do you think it's a bestseller?
Currently my most popular items on Etsy are a number of mobiles I make
with acrylic glass shapes (also known as plexi glass). I'm not aware of
anyone else making mobiles with acrylic glass shapes. I think I have a
bit of
niche within a niche with them.
4. Are you a full-time Etsy seller, and if not, approximately what
percentage of Etsy revenue makes up your total income?
My main source of income comes from large custom mobiles. The sales I
get from Etsy are are more like fillers for gaps in my work schedule. If
I get too booked out with large custom mobiles, I temporarily close my
Etsy shop.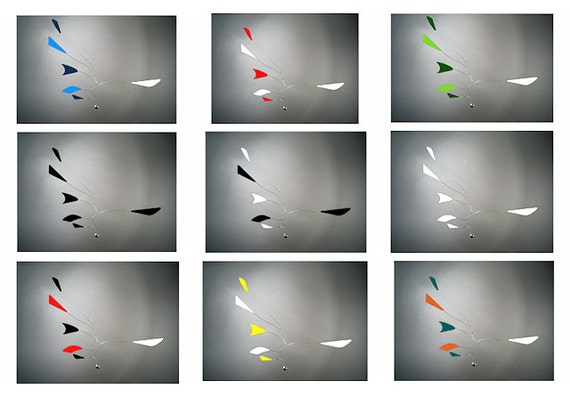 5. How do you see your shop growing in the future, and what changes
would you make to achieve your goals?
I've been thinking about making and adding larger, more expensive
mobiles to my shop. However, I would be taking a risk by putting the
time and cost of materials into making them without knowing if they will
get sold.
The nice thing about making custom mobiles is that I get them sold
before I make them, or at the very least, I get a 50% down-payment
before I put any time and materials into making them.
6. Where does most of your customer base come from? Do you make targeted
efforts to promote your shop?
I get most of my customer base from Google. I have a website with
targeted keywords that I maintain regularly and add blog posts to. For
many search terms related to mobiles, my website gets listed on the
first page in
Google's search results, sometimes even on top. From my website I link
to my Etsy shop. I also maintain a Facebook page and a Twitter account.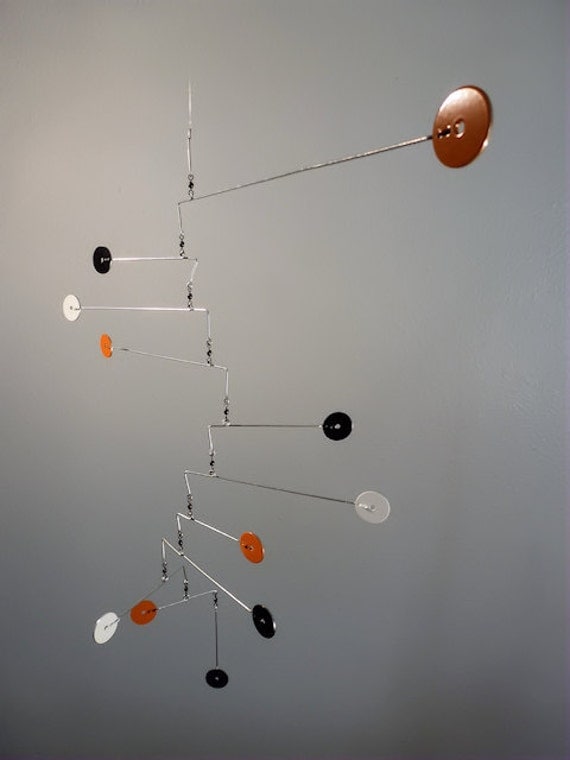 7. Do you sell your work at other venues online and/or at a physical
location? How does Etsy compare to other venues?
I list mobiles on eBay from time to time, but I get better results from
my Etsy shop. I do sell mobiles through brick-and-mortar shops from time
to time, both as wholesale and consignment. Last Christmas season I had a
pop-up shop at Modern Artifacts in Carytown [in Richmond, VA]. The obvious advantage of
any sales through Etsy is that I get 100% of the sales price. With
wholesale or consignment, I only get 50% to 70%, depending on the agreement
I have with a specific shop.
8. What is the best part of running your Etsy shop? Most difficult part?
I used to have a shop installed on my website which I kept having
technical difficulties with from time to time. By having a shop on Etsy
and simply linking to it from my website, I don't have to spend any time
on technical
issues. I have found and connected with other people on Etsy who make
mobiles and have had ongoing conversations with them over the years. We
refer inquiries to each other from time to time.
9. Has running an Etsy shop helped you find other opportunities besides
direct Etsy sales?
Yes, I have received both custom orders and wholesale orders through my
Etsy shop, as well as requests to consign my mobiles at brick-and-mortar
stores.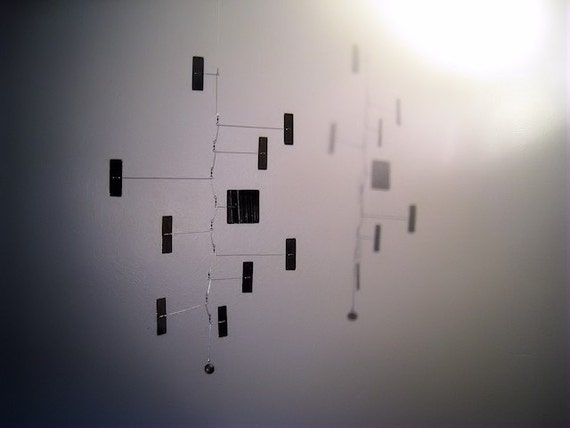 10. What advice can you offer to first-timers who want to sell on Etsy?
Take great photos of your items. Write descriptions that contain all the
keywords for your items so buyers can find them. Don't just make your
items available on Etsy. Try to branch out as much as possible and see what
works. For example, last month I sold several mobiles on Etsy, but I
also sold (via my website) and made two large custom mobiles, wrote a
"How to make a mobile" article for MAKE magazine, and sold several 3d
printed mobiles through a shop I have with a collaborator on Shapeways.
11. Anything else you'd like to add?
Stay in touch with what made you excited to make things in the first place.
***
Thanks Marco! Readers, let us know what you think of his awesome mobiles!